Dark Chocolate Espresso Cake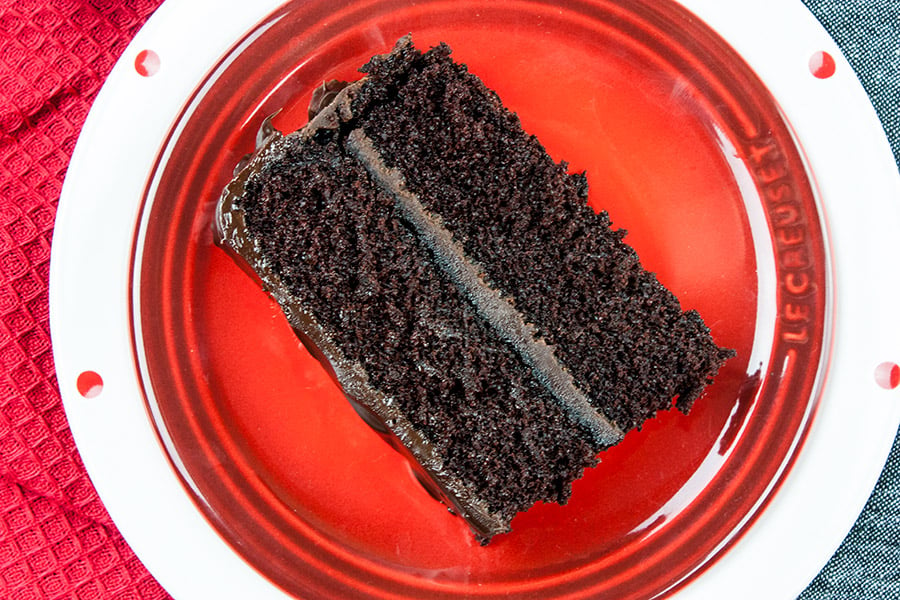 Author:
Don't Sweat The Recipe
1½ cups all-purpose flour
1¼ cups sugar
3½ teaspoons baking soda
¼ tsp salt
½ cup 100% cacao powder* (or unsweetened cocoa powder)
⅔ cup canola oil (or vegetable oil)
¾ cup buttermilk
2 large eggs
¾ cups freshly brewed hot espresso* (or extra-strong coffee)
1 teaspoon pure vanilla extract
Chocolate Ganache Frosting:
12 oz. good quality semisweet chocolate chips (I used Ghirardelli)
¾ cup heavy whipping cream
Preheat the oven to 350 degrees. Prepare two 8"x8" square cake pans with baking spray, and line the bottoms with parchment paper.
In a large mixing bowl, add the flour, sugar, baking soda, salt and cacao powder. Whisk to combine. Using an electric mixer on low, add oil, buttermilk, then eggs one at a time. Leaving the mixer on low, drizzle the hot espresso in a slow stream down the side of the bowl, to temper the eggs. Add vanilla and mix until batter is smooth.
Divide into the pans (this makes about 4 cups) and bake 35-40 minutes, until a toothpick comes out with a few moist crumbs. Let cool in pans at least 20 minutes.
Prepare the chocolate ganache frosting:
Place chocolate chips and heavy whipping cream in the top of a double boiler with 2 inches of simmering water. Allow chocolate chips to melt, do not stir right away. Once the chocolate has melted, stir until smooth. Cool at room temperature, until just warm.
Place one layer of cake on a serving plate. Place a scoop of ganache in the middle and smooth it out to the edges using a palette knife or spatula. Place the next layer on top of the frosted layer, pressing gently. Spoon more ganache on the top and smooth it around the sides, adding more ganache as needed to cover.
I use the baking strips and didn't need to trim a rounded top. These baked up beautifully.
You can use extra strong coffee in place of the espresso and unsweetened cocoa powder in place of the 100% cacao powder. But I HIGHLY recommend making the recipe as written
Calories:
435
Fat:
24.5
Carbohydrates:
53.7
Sugar:
35.7
Recipe by
Don't Sweat The Recipe
at http://dontsweattherecipe.com/dark-chocolate-espresso-cake/