Southern Yellow Squash Casserole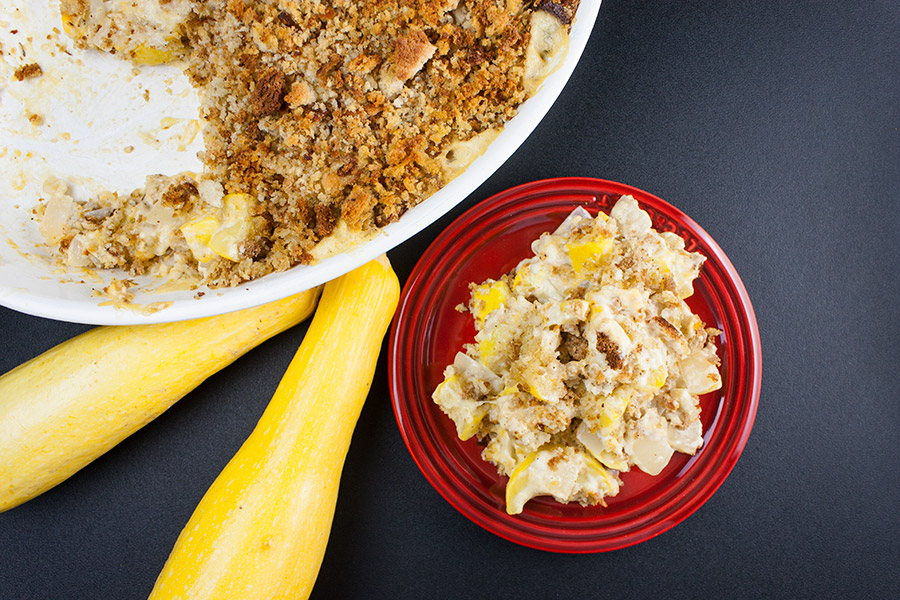 Author:
Don't Sweat The Recipe
3 tablespoons butter
2 pounds yellow summer squash (about 6 medium), sliced into ½ inch chunks
½ medium onion, diced
1 teaspoon salt
½ teaspoon fresh ground pepper
2 cloves garlic, minced
½ cup sour cream
1 10.5oz can cream of celery soup
1 cup sharp cheddar cheese, grated
1½ cups herb stuffing mix
3 tablespoons butter, melted
Preheat the oven to 350°F.
Heat a large skillet oven over medium heat. Add the butter. Once the butter is melted add the sliced squash, onions and season generously with salt and pepper, sauté for about 15 minutes, stirring occasionally. Or until the squash is tender. Stir in the minced garlic and saute another 2-3 minutes.
Grease a casserole dish with butter or spray with nonstick cooking spray.
Transfer the cooked squash to a large bowl.
In a small bowl mix the sour cream, soup, cheese, salt, and pepper to taste. Pour the cream mixture into the squash and mix until well combined.
In another small bowl, mix the herb stuffing with the melted butter.
Spoon the stuffing evenly over the top of the squash mixture.
Bake for 35 to 45 minutes or until bubbly and golden brown.
Serve and enjoy.
Recipe by
Don't Sweat The Recipe
at http://dontsweattherecipe.com/southern-yellow-squash-casserole/