Lemon Streusel Blueberry Muffins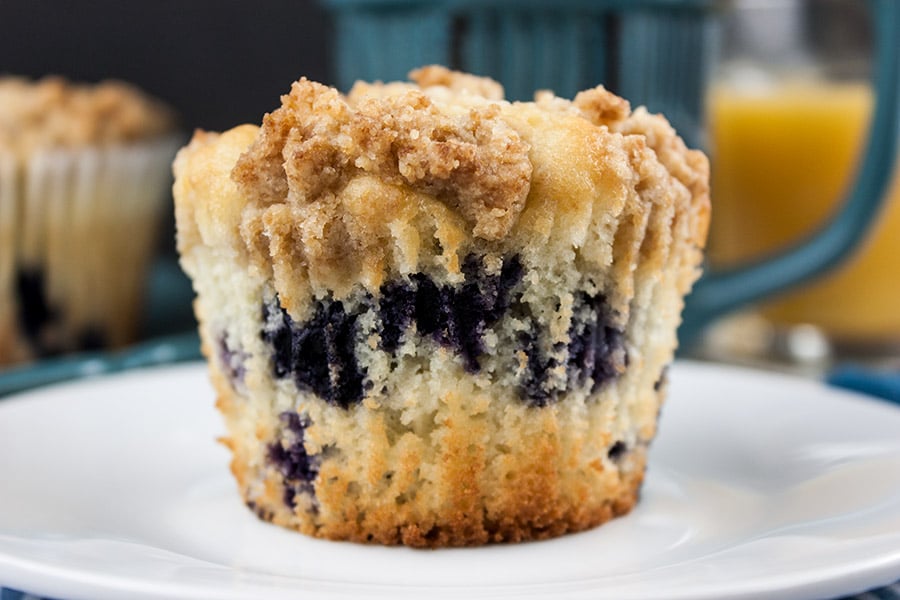 Author:
Don't Sweat The Recipe
Streusel:
5 Tablespoons unsalted butter, melted
3 Tablespoons granulated sugar
3 Tablespoons brown sugar
zest from one large lemon
⅔ cup all-purpose flour
Muffins:
2½ cups. all-purpose flour
2½ teaspoons baking powder
1 teaspoon salt
1 cup sugar
2 large eggs
4 Tablespoons unsalted butter, melted & cooled slightly
¼ cup vegetable oil
1 cup buttermilk
2 teaspoons vanilla
1½ cups fresh blueberries, picked over
Preheat oven to 425 degrees. Spray a standard muffin tin with baking spray or line with paper liners.
For the streusel:
In a small bowl combine the melted butter, granulated sugar, brown sugar, lemon zest and flour with a fork until crumbly. Refrigerate until ready to use.
For the muffins:
In a large bowl combine flour, baking powder, and salt.
In a medium bowl whisk 1 cup of sugar and 2 eggs until thick and pale. Slowly add the vegetable oil and melted butter, mix until combined.
Add the buttermilk and vanilla, mix until combined. Gently fold the egg mixture, flour mixture, and blueberries together just until combined (careful to not over mix, it will be lumpy with some dry flour spots).
Using ice cream scoop divide the batter among 12-18 muffin cups.
Evenly divide the streusel among muffin tops.
Bake for 17-18 min. Let muffins cool in the muffin tin for 5 minutes. Transfer to a wire rack to continue cooling.
We make 12 regular size muffins, the cups will be completely full.
Recipe by
Don't Sweat The Recipe
at http://dontsweattherecipe.com/lemon-streusel-blueberry-muffins/